Style
How can I look elegant and classy everyday? 9 Tips to look great!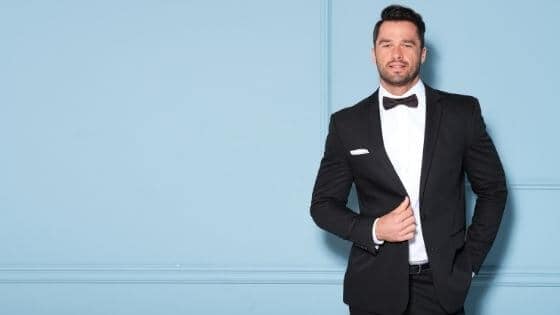 Many people associate elegant and stylish men with wearing brand name clothes and wealth, but this is not the reality. How can I look elegant and classy? Well, here I am going to show you how. Throughout this article, I am going to share with you everything I know, so that you learn elegance in all its aspects:
To be an elegant and sophisticated man, you must know how to dress properly for the occasion—with the right accessories, and without overdoing it. You will also need to learn to read and react to the situations in which you find yourself, how to give your opinion on any subject that comes your way without being pretentious, and how to be polite to everyone. 
What is elegance?
Elegance refers to the distinction, good taste and style that something or someone presents—either with their personality, their actions, or their style and grooming. An elegant man is not only identified by his dress, but also in the way he behaves in various situations. 
What makes a classy man?
To be a classy man, you must be courteous, polite, confident and under control in every moment. A man with class avoids acting rude and appearing arrogant. He must also wear elegant, timeless and wrinkle-free clothes, yet does not need to show off designer fashion labels.
To be a classy and elegant man, follow these tips:
How to be a classy and elegant man
Wear proper shoes
The shoe are a key part of elegance; but how to choose a classy men's shoe? Well, here I'll give you the keys:
To choose elegant shoes, you must select those most suitable for the occasion for which you will use them. You must consider the season—do not choose a summer shoe if the weather  is cold or rainy. Finally, you must select quality material that fits you very well.
Dress according to your personality
To be elegant is connected to your personality. Leave the clothes that do not suit your age, your profession, or the place where you work. That is the first step to projecting an elegant image.
Choose clothes that suit you
To be more attractive in dress you have to consider your body type; pick the right clothes, whether you are tall or short, fat or thin, young or old. Be clear about your style, depending on your lifestyle and type of work.
If you are a man who has a leadership position, the style needed to reflect that role should be formal.
If your position is more informal, then you can pull off a young and relaxed style.
Choose dark blue or black clothes, because they stylize your figure. You can also be a little daring with the textures and shapes you combine.
It would be best if you were versatile when using solid colors. That will give you the ability to combine and contrast different prints, accessories, and clothing models.
Do not choose the first garment you see
An elegant man selects each garment very carefully, and notices even the smallest detail of dress. He does not choose the first item on the rack he sees, and certainly not colors that do not favor him.
An elegant man is one who knows his body well—the colors and type of garments that fit him best and get the most out of his body. When choosing his clothes, he does so meticulously, taking care of the smallest detail.
You may be interested in "How to dress well for winter? Style essentials."
Don't seem obsessed with your appearance
Men with style don't seem obsessed with their physical appearance, and don't seem to make much effort to look good.
Work out your body
To keep your body in shape, don't stop working out at the gym. Physical activity improves your mood and your figure. Also, remember that an appealing figure is closely related to elegance. 
You must take care of yourself both inside and outside; keeping a healthy diet, exercising, and always being positive.
Be polite
Being educated is fundamental to elegance and good manners. To be an elegant man, you must show a good education, greet all people, and do not despise anyone openly. Class and distinction are not just displayed by your attire, but also in the attitude and politeness you show.
Adapt yourself to the place where you go
An elegant man knows how to comport, act, and look according to where he is going. You should have a positive attitude and be as friendly as possible. That will immediately give you an aura of elegance, class and poise.
It would be best if you had an open mind about the possibility of adapting yourself at any time. You have to adapt to the place and the situation. If you are invited to an event, you should prepare yourself by knowing the event's rules and customs. Behave according to the protocol of the environment.
Be spontaneous
When you are inside the event, have topics you can discuss with anyone. Smile naturally and spontaneously, never with forced gestures. Speak and greet everyone without anyone being left out.
Techniques for a classy and elegant appearance
Face care technique
Shave well. Choose a good razor. To get a better shave, use a quality, professional razor. Don't use an electric razor.
After shaving, choose a lotion. After you shave, use a good cream. Most men forget to do this step. With the use of the lotion, besides having a pleasant smell, you will also disinfect and avoid irritations. 
Moisturize your skin. By applying moisturizing creams to your face, you will acquire softer skin without imperfections. You will also get a better shave, because the hair follicles are softer.
Acne. To eliminate acne from your face, wash at least twice a day with an acne treatment. After this, apply a moisturizing cream. Use a lotion to fade the acne; this way, you will diminish a little the red color of the pimples, and eventually eliminate them. Make sure it contains 5% benzoyl peroxide.
You may be interested in "How to care face skin for man, what a guy needs know!"
Hair care
Use fixing gel. To style your hair, use gel so your hair stays in place longer. Even if there is a strong wind, you won't mess it up. However, please don't overdo it—using gel sometimes results in dandruff.
Use hair wax. You can also use wax. It's similar to a gel, but not as liquidy and the texture is thicker. It will help you define curls without them sticking to your head.
Get a good haircut. If you have a bad haircut, even if you have the right attitude or very stylish clothes, it won't do you any good. A lousy cut will detract from your appearance.
Don't overdo it with hair washing. Don't shampoo your hair daily. I recommend you wash your hair two or three times a week, and use more conditioner than shampoo.
You may be interested in "How can I add volume to my hair naturally? What you don't know."
Dental Health
Brush your teeth. Brush your teeth every day, when you wake up and before you go to sleep. It is better not to just brush right when you wake up; wait until after breakfast. 
Whiten your teeth. Whiten your teeth with whitening strips and natural remedies. If your budget allows for it, go to a professional for truly incredible results.  
Floss your teeth. Floss helps prevent teeth from becoming stained, and prevents many gum diseases. It will also freshen your breath by removing food debris from your mouth.
Use a tongue cleaner. When brushing, don't forget to clean your tongue. That will also eliminate bad breath.
Remove your body hair
Chest and back hair are not very attractive. Nowadays, depilation (hair removal) is very fashionable; not only for women, but also for men. If you don't like to shave, at least try to keep the areas trimmed and clean.
The most elegant colors to dress up for man
Black
Black is the most classic and elegant color that exists. It also complements any other tone or print. The color black stylizes the figure. It is sophisticated and serious at the same time.
White
It is one of the most sophisticated shades to wear during the daytime. If you wear white, make sure the clothes are 100% clean, impeccable, and without any stains or wrinkles. Otherwise, the decision will backfire.
Coffee
The coffee shade is strong and intense, full of life. Lighter colors, like sand, are the most sophisticated and delicate of these shades.
Navy blue
The darker you go, the more sophisticated and elegant you will look. This blue is less serious than black, and easier to combine with other shades.
Red
It is a sexy and elegant color, although not all men dare to wear it because it is so striking.
Dark purple
It is a fascinating color that results from the passionate fusion of red and navy blue. With this color, like with red, it is an exquisite color but not everybody dares to wear it.
Accessories for elegant men
The right accessories add elegance to your style and appearance. When you are well dressed, it is essential to use quality accessories that are combined correctly to give that final touch to your outfit.
Choose a nice wallet
An old, ugly wallet will make you look like a man without good taste, no matter how well you dress. It would be best if you got a nice wallet matching your style. I recommend you to buy a wallet of a neutral color: brown or black.
Use a quality watch
If you wear a formal suit, choose a quality watch; for everyday use, choose one that is informal. You can choose either leather or metal strap watches.
Fine leather belt
It doesn't matter if your outfit is formal or informal. An important element of an elegant appearance is to choose a beautiful belt that fits you well and is not too long.
Sunglasses
To choose the ideal type of glasses for your look, choose ones that match your face. You can ask the eyewear salesman for help. Sunglasses should be versatile; for use at work or with weekend clothing. A very cool pair of glasses is the aviator style.
Include a pair of cufflinks
Cufflinks, also known as dumbbells, consist of a pin and two pieces joined by a small stem or chain. They are used to close the cuff of the shirt. 
By adding this accessory to your formal suit, you will make a difference instantly. The cufflinks are used when wearing formal garments, and at events requiring this type of clothing. This accessory adds personal elegance without the need to look too gaudy or daring.
Silk tie
Nowadays there is a great variety of formal and informal ties, but you must always choose one you like that combines well with your suits. You must not forget that you must have at least one in your closet, even if it is a silk tie.
To give it a touch more elegance, add a modern pin according to your suit. That is a decorative and practical accessory that helps keep the tie in place.
Shoes
The shoes that never go out of fashion are the moccasins or the classics. You can always wear these shoes because they do not go out of style. The colors should be brown or black, to match almost all elegant outfits.
Makeup for an elegant man
Yes, you have read that clearly. There are many modern, elegant men who decide to wear makeup when attending some special celebration or important event. Apply some makeup to highlight some features or hide certain imperfections of your face.
Although it is believed that makeup is only for women, it has been made clear that it is also used to highlight male beauty. These are the steps to pull off the right makeup:
Moisturize your skin
On top of the clean skin, apply some moisturizer. Without this step, you won't get the right makeup. You can apply better makeup on well-hydrated skin, which makes the natural beauty stand out. The moisturizing cream should be specific to the type of skin you have.
Use a makeup corrector
In this step, you hide some imperfections that you have on your face—like scars, dark circles, or pimples. The concealer should be a little lighter than your natural skin tone. Before buying concealer, try it directly on your face to determine which one is right for you.
Tanning Powders
To show off luminous skin, apply this type of powder that also helps your face have a more uniform skin tone.
Makeup tips
For the elegant man, the most suitable makeup is the one that looks very natural and is not noticeable. The makeup must be as neutral as possible.
Apply a little highlighter or light shadows on your upper cheekbones, chin area, and under the eyebrows. With this, you will get radiant and elegant makeup.
To intensify your look, apply mascara, but it must be transparent.
It would be best if you defined your eyebrows well. To do this, remove excess hair and then comb through with an eyebrow brush. Neglected eyebrows detract from the beauty of the eyes and face.
Always remove all makeup from your face before going to sleep. If you leave makeup on your skin all night, it will damage your skin. Never forget to refresh your skin, and always keep it impeccable.
Steps to make up
The first thing you should do is keep your skin protected from external harms that show on your skin, such as stress, heat, sun exposure, or lack of sleep. To avoid this, take care of your skin daily by toning, cleansing, moisturizing, and nourishing.
After the skin is clean and hydrated, apply a makeup base for men. With this base, you will correct facial imperfections like pimples or expression lines.
Next, apply a powder to your face, choosing it according to your skin color.
To give depth to the eyes, apply light beige shadows.
Conclusion
Putting into practice all the tricks and tips that I have explained to you throughout this article, you will stand out for your elegance and class in every occasion and situation.