Style
How to dye men's hair at home without messing up
Dyeing male hair is still somewhat taboo. Many men simply accept that the passing of time will show in their hair. For others, it's not easy to let the gray hair show; so, they choose to dye their hair. How can I dye my hair without making a mess? Since coloring your hair is not exactly a comfortable process, we have asked our stylist for tips.
To properly color your hair, you should choose shades according to your skin color. You should look for two shades lighter or darker than your natural color. If you want to make the dye look more natural, reduce the hair's application time.
Nowadays, not only women dye their hair. Many men do it too and, fortunately, there are specific dyes for men available that don't give the hair an artificial look.
How can I dye my hair at home?
1) Choose a slight change of color
In today's society, many men are ashamed to admit to dyeing their hair. If you want to avoid public knowledge of your hair dye, you should color your hair with shades similar to your natural color; at most, only 1 or 2 shades lighter or darker.
If your hair has natural red tones, choose warm tones when dyeing. If your hair doesn't have red tones, then choose cool tones. Ashes also work well for most men.
2) Choose quality hair dyes
When you choose cheap, over-the-counter products, they can leave your hair looking uneven. Instead, opt for products that are professional and high-quality. Choose those that are specifically made for men. Also, look for a coloring brush if one doesn't come included with a coloring kit.
3) Mix the dye with the developer
To mix the paint with the developer, follow the instructions on the product label. Men's hair can be more resistant to the acceptance of colors than women's hair.
If you want to get a darker shade, you need to increase the amount of color you use compared to the developer. Although, this isn't necessary for every man's hair, nor all hair colors. You'll have to learn through trial and error.
An example of how to prepare the developer mix can be: 
If the product you have purchased requires 50% dye and 50% developer, you should increase it to 75% dye and 25% developer. 
When you make this change, use a developer with a higher volume than 30.
4) Dye your hair
To avoid having a noticeably artificial look, don't soak your hair directly with the dye. Instead, use the brush to dye it, being careful to leave the temples and sides of the head uncolored. 
By doing this, you get some of the natural color still visible. To achieve a slight coverage of color, apply the dye with a brush, and comb it in carefully.
5) Rinse  
If your goal is to achieve a more natural look, check the product label to see how long to leave in the hair color. Then, simply reduce that amount of time, and rinse out the dye until the water runs clear.
How to dye your hair at home without messing up: a step-by-step guide for men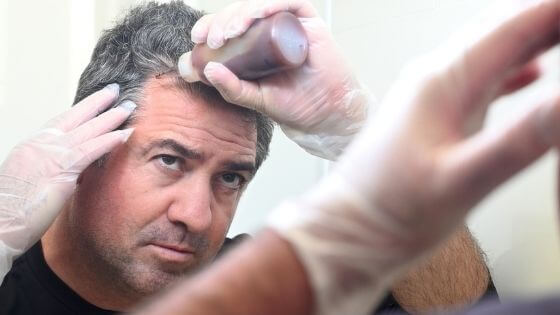 It's not necessary to go to the hairdresser when you want to dye your hair. If your budget is tight, or you want to do it yourself, you can do a solid dye job at home; just as long as you follow these steps, and have the elements you need to dye your hair. These elements are:
hair dye of your desired color and brand
old t-shirt
old towel
latex gloves
dye mixing container
dye brush
petroleum jelly
a comb
Steps:
1) Before starting
Make sure your hair is clean—meaning you washed it in the past couple days. This way, the natural oils in your hair will help it penetrate better.
2) Wear the right clothes
Put on an old t-shirt, since it will get stained by the dye. Also, choose a place in the house where you can easily clean what you may accidentally stain. 
It would be best if you also placed the towel around your shoulders.
3) Protect the skin on your face with Vaseline
Distribute the Vaseline mostly on the edges, along the hairline, behind the ears, and on the neck. 
With Vaseline, you protect the face from possible irritations, and even discoloration. 
Vaseline helps to remove the dye more easily without irritating the skin.
4) Prepare the mixture
For this step, put on your gloves, and do not take them off until you finish. 
Now, double check the instructions on the box, because each brand has its specifications. 
Inside the box, you will see the dye and developer to mix in your container, using the brush to help. 
The quantities used will depend on the instricutions on the box.
5) Apply the dye
Separate your hair using the brush, and start applying the paint to the roots. 
If you want to cover gray hair, it's best to start with those gray areas before continuing with the rest of the hair. 
When you finish with the roots, wait about 15-20 minutes. 
After that, finish applying the dye strand-by-strand with the brush. Do it until you cover all the hair with the dye.
6) Cover the hair
While you're waiting for the dye to wear off, put on a shower cap so that the dye penetrates deeper into your hair and gives it a better color.
7) Remove stains on your face
After the dye's exposure time in the hair is up, first remove the dye spots that are on your face with a damp cloth or a wet wipe. Since you have already applied Vaseline, you will find them easier to remove.
8) Wash your hair
When you have finished the time and removed any dye from your face, remove the cap and wash your hair with cold water until the water falls from your head without dye. 
Then, wash the hair as usual and apply a conditioner that comes with the dye case. 
If there's no conditioner in the case, use a hair mask with a conditioner. 
Let your hair air dry, and don't wash it for at least 24 hours.
Hair coloring tips for men
Use a mild dye
Men's hair is different from women's, especially when it comes to hair length. For this reason, men should only use a soft dye, and one application may be enough. 
Another consideration is that men usually have less hair, so a specialist will recommend applying dyes that are less harsh and more efficient.
You must have the commitment
When you start coloring your hair, you should be aware that you need to apply a blister and a conditioner. Half of the work is done when you color your hair, and the other half is your responsibility. If you want your hair to be brighter and last longer, you must be committed to taking care of it.
A note on gray hair
Gray hair is not easily covered up. If you want to dye your hair and cover your gray with a natural look, certain techniques can be challenging to carry out at home. That's why it's essential to understand what you want out of dyeing your hair before you start.
Protect your hair after coloring
The dye can make your hair fall out or dry out. If this happens to you, you can rejuvenate it with easy remedies. I recommend moisturizing and general hair care, because coloring takes a toll on your hair.
You might be interested in "How to stimulate beard growth naturally, 11 tips you need to know."
Protect your hair before coloring
Protect your hair before dyeing it as well. Before coloring your hair, you should prepare it with masks, special shampoos, and by avoiding extreme cold or heat. This, so that the dye doesn't have harmful actions; it's like applying an apron before painting.
Retouch the dye
Retouch the dye job frequently, because you have to keep the color once you start. There's no way to go back when you paint your hair. Therefore, always touch up the coloring, or let your hair grow out until the dye disappears.
Every time you need to, you should apply some color to the roots. Ask a specialist to do it for you if need be.
Beware of discoloration
Bleaching hair is more complicated than darkening it. That is because dark hair has more melanin, so bleaching will be more intense and abrasive on each hair fiber. If you're going to bleach your hair, you need to be committed to your hair's long-term care. Also, keep in mind that this process will take more time and money.
Don't choose a trendy shade
Even if you like a color that is in style, you can't always apply it. What can influence your color selection includes your skin tone, style, appearance, and even your work.
Take special care when tinting your eyebrows
Tinting the eyebrows are not always the best option, because they need specific and more delicate care. If you don't take care of them, this tint job can end up ruining your appearance.
If you can, go to a hairdresser
If you can afford to, avoid dyeing at home. Some people dye their hair at home to save money. I recommend you be very careful when doing this, because you may have patches or badly painted locks that you have missed unintentionally. If you're not confident about applying the dye correctly, it's better to go to a stylist or hairdresser who will help you get the right look.
How to dye your hair without hair dye
Can you color your hair without using dye? That is a valid question to ask in this situation, and I will answer it below.
There are several techniques for coloring your hair without dye. You can prepare homemade colorings using crepe paper, chalk, food coloring, or a mixture of chamomile, honey, and lemon. These dyes are not as effective or as durable as synthetic dyes, but they do not harm your hair.
Some ways to dye your hair without using artificial dyes include:
Dye with crepe paper
For this dye, you must make strips with the crepe paper of the color you like. Then, submerge these strips in hot water for a while. Then, soak the desired part of the hair for a few minutes.
Dye with chalk
Chalk is one of the ways to color your hair naturally. For this color, add some conditioner to the chalk in your preferred, and it will be ready. This method won't last long, though.
Food coloring and hair cream
The food coloring is a bit concentrated, so the color will last and help you get a lovely shade. Just mix the colorant with a little water and conditioner, and then put it in your hair. If you have dark hair, it won't be as noticeable in comparison to people with lighter shades of hair.
Color with chamomile, honey, and lemon
With this technique, you will get different shades in your hair. To prepare the mixture, blend the three ingredients very well and apply it to your hair for several days.
Men's coloring tips
Use coloring gel. In addition to the special dyes for men, there are some coloring gels available for men. These cover the hair entirely and conceal, in only a few minutes, those first gray hairs.
Use dye shampoo. Now, it's easier for men to dye their hair with depigmenting creams, which you can use as a shampoo. Through each application, the hair acquires more and more pigment, until you cover your gray hair completely. This application has good results in both blond and dark hair.
Lighten hair. If you see the first signs of baldness, a trick to hide it is to slightly lighten the hair. That won't prevent hair loss, but it will hide the an amount of hair. This trick disguises the lack of hair because it reduces the color difference between the hair and the scalp.
Use color baths. There are also color baths that change the color of the hair without significant damage. If the result is not what you expect after eight washes, the color will disappear without much additional effort. If you like the color, then opt to make it more permanent. You can also intensify the paint with a tone-on-tone color that will last for about 20 washes.
Trendy hair colors for men
Oxygenated blonde 
This color suits men with dark or brown complexions. It is most noticeable when the natural root of the hair starts to grow. This color will look great for older men; when you apply it, you will look much younger. 
Intense shine
If you don't want to apply hair color, but want to acquire a modern, use a gloss coat. Shine is ammonia-free. Unlike hair dye, it helps to bring out your natural hair color.
Silver grey
If you're a man who likes to show off his gray, then this hair color is perfect for you; especially if your hair has a topknot.
Copper dye
This dye type is perfect for men who have caramel skin, wavy hair, and those with a mushroom cut.
If you have light brown hair, use this dye. Red color ranges fade quickly, so you should choose a warmer shade, such as bronze or ginger.
Natural black
Dark hair is also in fashion. To achieve this natural black, apply pure pigments to the hair. If your hair is long, this product is excellent, as it is rich in protein and gives the hair life and shine.
Golden caramel shadow
If your hair is a dark color and you want to transition to a lighter color, then lighten your mane with this color tone. I recommend it if you are dyeing your hair for the first time. Men's gold candy shade is ideal because the application process is not as harsh.
You may be interested in "How can I add volume to my hair? What you don't know."
Conclusion
If you want to have a radical change in your appearance, you must consider some considerations, especially how to choose the color that best suits you. It would be best if you also looked for a shade that you feel comfortable with. When you see that color doesn't suit you, you must accept it and not go ahead with it.